I awake the next morning feeling much better. No signs of a cold coming on, though I still can't think about those chicken tenders without feeling my stomach lurch a little. There wasn't even anything particularly wrong with the ones I ate so who knows why I suddenly had such an adverse reaction to them. I am back on the road and heading south. In no time at all I cross into Florida and make my way to Flagler Beach.

I arrive there in the early afternoon and immediately find a parking spot near the pier and walk down to the beach to get my toes in the sand. Big waves were constantly crashing in. Not as warm as I would've hoped. I saw one family sitting down by the shore dressed in winter jackets! I only waded in up to my knees. Then I crossed the street and grabbed a lovely slice of pizza from a take out and ate it on one of the beachside tables. After driving 3000 km I had finally arrived.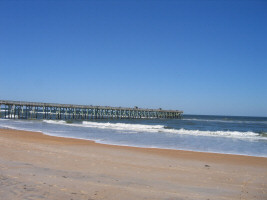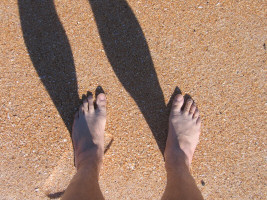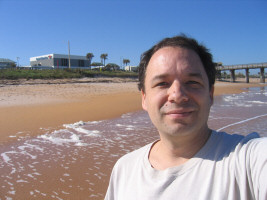 I then drove south just a couple miles and arrived at the Whale Watch Motel. I had contemplated staying there the last time I was down here. I like the area around Flagler Beach because it's not built up like a lot of the other areas in Florida. It kind of feels like traveling back in time before everything became commercialized. No big skycrapers, no McDonald's, only the occasional t-shirt shop. I was particularly attracted to this motel because it seemed to be the only place in the area with wireless internet access.

I assume that most of their visitors book rooms in advance because the owner seemed a little surprised that I was just showing up out of the blue. I figured the place must be pretty well booked up because he went to see if any rooms were available. But he was actually checking to see if any rooms were ready. He did mention later on that this is the time of year when they are usually doing a lot of maintenance to the place. He found one room that was almost ready. I checked out the room and it seemed fine. He introduced me to some of the other guests who were lounging around the pool and I chatted with them while he gave the room a quick vacuum.

And what a bunch they were. I am sure they would not be upset if I were to refer to them as rednecks. I think it's something they would be proud of. One of the men warned the owner than they might scare me away - and that if he didn't, the women definitely would. He tried to jokingly match me up with one of the women. She said I was too young for her, but he suggested that I'd likely have plenty of stamina! Then she brought up some relationship she had with a 40-year-old ex-con that didn't work out. She also said that she couldn't understand a word I was saying because I talked too fast. "You're in the south now, she explained." I started to wonder what I had gotten myself into. I did at least get to show off how brave we Canadians are by jumping into the pool, which was unheated and freezing cold!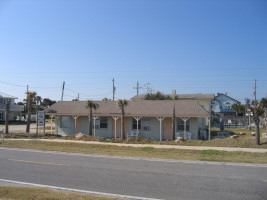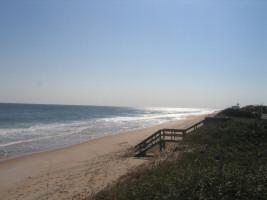 So I decided to stay for at least the night. Even if my neighbors were a little frightening, the area was still nice. The wireless worked fine. The only real problem was that there was no desk in the room. Fine for basic stuff, but it was hard to do any serious work on the laptop just sitting on the bed. By the time evening came around, my main concern was how cold it was getting. There was a little heater in the closet and I half expected that I'd need to use it. Still, I couldn't complain, it may have been only 14 C here, but it was 1 C back in Tatamagouche.

Grand t-shirt slogan of the day: "If you don't hurt, we got nothing to talk about."

The next morning I was up bright and early wandering around the beach. The motel had a whole bunch of old folding chairs, boogie boards, and various toys for guests to use so I took one of the chairs across the road to the beach and sat down by the shore and tried to relax for a while. I figured the place was fine so I booked two more nights. Then I went and did something amazing. I washed my car! Now this may not sound like an earth-shattering thing but I had never officially washed either of my two previous cars. Never had a big need to. But the Subaru had gotten a little grubby on the trip down and was also covered in a light coat of salt water from being so close to the ocean. So, off to one of those self-serve car washes where I gave the thing a good cleaning. (Only to have it coated with salt again the next morning.)

To give you an idea of how close to the beach the motel is, I shot a little video starting at my room door and ending with my feet in the water.





After another freezing cold dip in the pool, some more walking along the beach, and an afternoon siesta, I decided to head off into civilization briefly. Despite having such an out of the way feel to it, you're less than 10 minutes away from Wal-Mart, Denny's, and all the other big name companies that appear to be forbidden from Flagler Beach. I had two quests on my journey. One was to find a Chinese All-You-Can-Eat buffet that I'd seen advertised online, and the other was to check out the cheap bikes at Wal-Mart. Flagler seemed like an ideal place to have one.

I got the directions perfect. I found the buffet right away. Unfortunately, it must have gone out of business months ago. So I started searching around for a second buffet that I knew was in the same general area. The way this particular area is laid out is quite beautiful. At first glance you wouldn't even know it is a commercial district. There are so many trees everywhere that it's like going through a park. Very nice... unless you don't know the area and are trying to find a place. Then you have to pull into practically every new area just to see what's there. I searched and searched and could not find the other buffet.

I finally gave up and went to Wal-Mart. After the peacefulness of Flagler I was totally unprepared to be hit full force with the Mega Store. I was barely inside for 30 seconds before a little voice inside my head said "Get out while you still can!" However, I made it to the bicycle section and saw they had really good deals on bikes. And I suppose if a salesman had been right there to help me I would've bought one. But, instead, I just felt a very strong desire to leave. And so I did.

Having not found my buffet, I was getting hungry. But after escaping Wal-Mart, the last thing I wanted to do was go in to some fast food joint. So, instead of taking the interstate back to the Flagler exit I figured I'd follow the A1A highway down and stop at some small restaurant along the way. It should've been an easy thing to find. Just head east to the water and you'll find it. Or so I thought. I got lost in some swanky area and drove around and around until I had no idea where I was. When I finally came out, one of the first things I saw was a Chinese buffet, the second one I had been looking for. And where was it? Only about a block from the one that was closed. Yup, somehow I managed to come right back to where I had been and find just what I had been looking for.

Not a great buffet, and at $10 I don't think I quite ate my money's worth. If I'd been a lover of sushi or shrimp I would've been in heaven, but my feast mainly consisted of sweet & sour chicken, salad, and a whole bunch of those tasty Chinese doughnuts.

Back at the motel I grabbed my iPod and went down to the beach. I took off my sandals, rolled up the legs of my jeans, and spent an hour listening to music (and sometimes just listening to the waves) and walking along the deserted shoreline. The water was much warmer than the air so it was nice to walk in it. I was the only one there for miles. Quite wonderful.

I ended up staying three nights at the Whale Watch Motel and enjoyed it very much. The only real complaints: no desk, the beds were too small (for me, anyway) and it did get kind of chilly in the evenings this time of year.